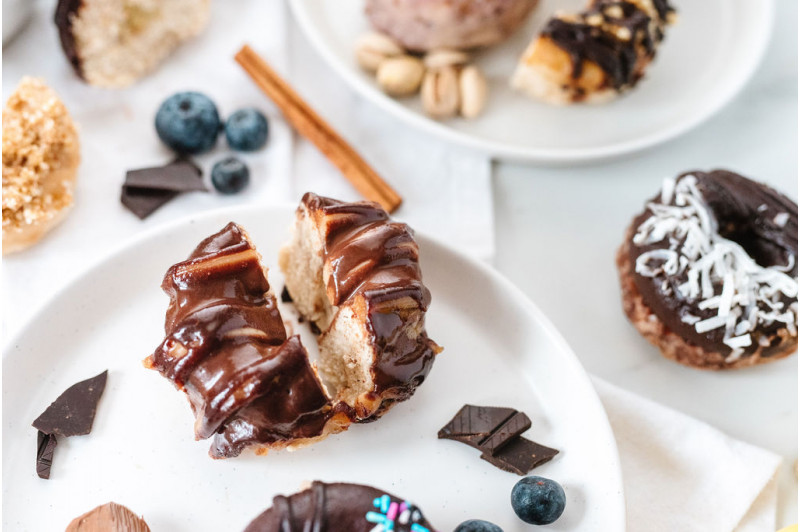  
Baked PB "Nutella" Donuts
Our highly irresistible Nutella inspired treat that will leave you wanting more.

Order for $100 to get free shipping!

Shared Delivery
Please contact us to check if there is a shared delivery option for your area! Thank you!
Our soft, light, naturally sweetened Nutella Donuts are made with organic banana, coated with coconut "icing", sprinkled with crushed almonds and drizzled with house-made vegan hazelnut dip ('Nutella') and peanut butter sauce. 
Ingredients: Gluten free flour blend, coconut flour, hazelnuts, coconut milk, peanut butter, maple syrup, cocoa powder, coconut oil, almond flour, vanilla, baking powder, baking soda, apple cider vinegar, Himalayan salt.
Gluten Free
Vegan
Dairy Free
100% Plant Based
Processed Sugar Free
Sweetened with dates and local maple syrup
Handcrafted with love!
Please allow up to 48 hours to fulfill the order. *Minimum for all pre-orders is 6* Mix with other donut flavours!
For same day pick-up and delivery options, visit us through our supporting partners Uber Eats, Skip the Dishes and Door Dash.
Our same day baked donuts ordered through abovementioned apps are stored in the freezer. Please thaw first and reheat in the microwave for 20-25 seconds or in the oven at 180°C for 4-5 minutes (place thawed donuts in the cold oven and turn it on, by the time it reaches the temp, donuts are good to go).
You might also like